The 1980's were dynamic and a lot of fun for many real estate professionals in the Lakes Region. The decade led off with a recession, high unemployment and business failures at their highest levels since 1932.  The decade became known for its outrageous greed, with a lot of free and easy capital and higher doses of leverage.  Leverage can magnify gains as well as losses. The result was the creation of one of the best buying opportunities I've seen in real estate or one of the worst real estate depressions in history. 
Imagine, paying 18% interest on a 30-year variable rate mortgage with a 5 cap over the life of the loan. It's almost unthinkable. But that was the reality for home buyers throughout the Lakes Region in October 1981.  Unlike today, In the early 1980's the Federal Reserve was waging a war with inflation. In an effort to tame double-digit inflation the Central Bank drove interest rates higher to epic levels topping out at 18.4%.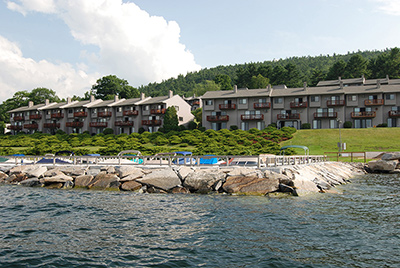 I can remember marketing Broadview Condominiums on Lake Winnipesaukee during that year. I would joke with the customers and ask them if they wanted to place the purchase on Visa or Mastercard because the interest rates to purchase were similar to their credit cards. At that time the asking prices were $117,000-$121,000 because of the exuberant interest rates. Compare those prices to today's asking price of $499,000 for the same condominium unit. Today the price is 4 times higher because the interest rates are 4 times lower (4.5%) and inflation did its magic.
Because of the tough economic conditions in the early 80's Ronald Reagan and Congress passed the Economic Recovery Act in 1981… As a result, real estate became a favorite tax shelter and many syndications, Realty Trusts, and developments proliferated throughout the country. At the same time, the Federal Reserve lowered the interest rates to stimulate real estate activity. Deregulation of the Savings and Loan industry allowed Thrifts to lend out money in a more aggressive manner and at the same time commercial banks were feeling the effects of competition and increased their allocations to real estate including leverage financing of residential developments and commercial projects. By the end of the decade, real estate amounted to approximately 35% of commercial banks assets.
This influx of money translated into incredible development activity surrounding Lake Winnipesaukee. In my 42-year Real Estate career, I have never seen so many new developments and condominium projects start up throughout the Lakes Region. I went back and counted a total of 45 new condominium developments which were started in the 1980's. They were popping up like dandelions in the spring. There were contractors with Hilti-guns, cement trucks, excavators, plumbers, electricians, painters on every corner.  They patronized the local delis and grocery stores during their lunch breaks.  Because of the huge demand for workers, contractors were coming up from Texas, Florida, and Mexico.  It was literally an unparalleled housing boom.  Sufficient to coin the phrase: "the go-go 80's." During this period there were numerous new communities developed surrounding Lake Winnipesaukee… Broadview Condominiums, Samoset, Windward Harbor, Jonathan's Landing, Lands End, Stonecrest, Gilford Meadows, Sundown, Mallard Cove, Christmas Island, multiple villages at South Down Shores, and numerous other new projects totaling 45.  Keep in mind these developments include: 30, 40, 50, 100 units and in the case of South Down Shores and Long Bay alone over 600 housing units were eventually developed over time.
New Hampshire's success throughout the 1980's seemed invincible, in 1986 NH Housing Starts increased to a high of 22,000 units. In the Lakes Region, we were selling condominium homes to clients benefiting from the Reagan Administration's Defense buildup and the remarkable rise of the Boston based computer industry.
Employees from Digital Equipment Corp, Wang Laboratories and other major employers were snapping up luxury lake-front condos and purchasing boats like a frenzy.  This influx kept the bulldozers and construction workers stretched throughout the decade. I can remember an article we had in the Boston Globe titled "Cash Registers Ringing in New Hampshire's Lakes Region." It was definitely a brash housing boom with huge prosperity. Throughout New England and the country, billions of dollars were invested in speculative residential and commercial real estate projects. The rampant speculation also contributed to the future savings in loan debacle.
The real estate miracle, however, was built on frail earth. The pipeline of high-tech jobs slowed dramatically, and there were two other national events that caused the real estate boom to flatten and take a nose dive. The first event was the Tax Reform Act of 1986 which eliminated tax shelter advantages and had a major impact on rental income; the second event was "Black Monday" the stock market crash of 10/19/1987. In that single day, the market declined 22.6%. Basically, these two events shifted the confidence in the markets and helped set the groundwork for the rescission that hit in the early 1990's. During this time many people who took equity loans backed by the new value of their homes were cut off at the knees. Leverage developments through New Hampshire and Massachusetts were painful to watch. The year was 1988 and 1989 and what happened next was a real estate bust just as epic as the boom that proceeded it. Jobs vanished. Banks failed. Unsold condos littered the market.
With the increased real estate loan defaults, a large number of Northeastern Banks failed 16 in 1990, 52 in 1991 and 43 in 1992. In 1991 the assets of failed banks represented 25.4% of prior year-end banking assets in New Hampshire. I think it was 5 of New Hampshire's largest banks closed during this time. Growing up as a kid in Manchester I always remembered the huge neon Amoskeag Bank sign at the corner of Elm and Hannover Street. It was right across the street from my father law office.  To see that sign, go down was a shock to everyone in New Hampshire.
It was not fun meandering through the foreclosure process that followed. Instead of real estate ads, the papers were littered with foreclosure notices and real estate auction ads. The numbers were tragic, everyone was dazed, and it happened so fast. The speed and tenacity of the auction process ultimately led to a quick deacceleration of real estate values. Which literally took a decade to rebalance.
So where are we now? During the past 10 years, we haven't seen the huge new construction build up we experienced in the 1980's, and we haven't seen the extreme leverage either. Basically, what we are doing today is we are selling and reselling all of the product that was built in the 1980's. We have a stable market with limited inventory for certain types of properties. Yes, prices have increased since 2008 that's a natural phenomenon, and we've been blessed with an extremely low-interest rate environment during the last decade. Yes, the Federal Reserve is slowly increasing interest rates in order to harness a strong economy and dampen inflation worries. The real estate run-up in high-rolling areas such as San Francisco, Seattle, Portland Oregon, Denver, and New York is slowly beginning to subside. Ultimately here in the Lakes Region, we will experience similar trends. Boston right now is providing us with strong head winds, and we've been fortunate that their strong market has been a great incubator for second home sales surrounding Lake Winnipesaukee. Have we learned from our mistakes during the 1980's? I believe we have here in the Lakes Region.
(Above photo is a picture of Samoset Condos on Lake Winnipesaukee; a 132-unit complex built in the 1980's. The land was sold to developers by Frank Roche.)
Frank Roche is the president of Roche Realty Group with two offices in Meredith (603) 279-7046 and Laconia (603) 528-0088. You can learn more about the company and research as wealth of real estate information at: www.rocherealty.com