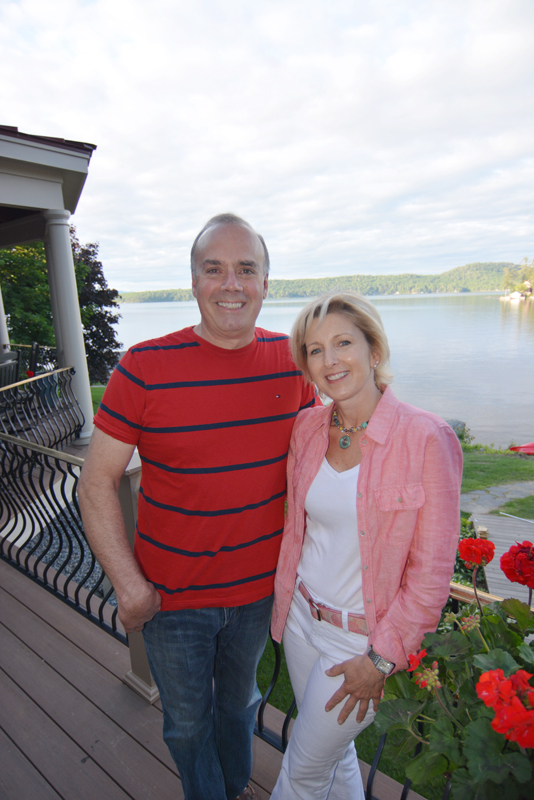 I've always enjoyed hearing people's stories on how they ended up in the Lakes Region. Nancy and I were having dinner with our friends at their new Winnipesaukee lake home in Alton. Tom and Linda Diorio grew up in Woburn and Hingham MA. Linda's mom would take the train up from Boston to Weirs Beach and rented a cottage on Pendleton Beach of Lake Winnipesaukee. Linda recalled her parents and grandparents later purchased a mobile home at Prescott Park on Paugus Bay when she was 7 years old. The family later sold the mobile home and rented a home on Dockham Shore in Gilford. Her dad then bought an old cottage on Pendleton Beach which they vacationed at for 2 years. In 1987 the family tore down the camp and built a new house on the waterfront lot where they shared great memories on Lake Winnipesaukee.
Tom's family came up to Alton Bay on Lake Winnipesaukee in the 1950's from Woburn, Mass. They would sneak up on weekends to go water skiing and boating. Tom's dad said to his friends 'one day I'll own a place up here." He bought a 24 ft. Lyman from Downing's Marina and kept it there. When Tom was 4 years old he remembers sleeping on the boat and the sound of the water lapping against the hull. His father later found a waterfront lot on Peggy's Cove which he purchased for $3,500. Against Tom's wishes, he sold the boat to help finance the lakefront lot. in 1966-1967 his dad spent weekends constructing a small ranch with his out of his pocket money. Tom said cardboard partitions were initially used as bedroom walls and they used an old well pump in the sink for water.
He loved snowmobiling in the winter, waterskiing in summer, and tinkering with engines all year long. He "would ride on his motorized mini bike for hours into Wolfeboro with friends." Today he still owns that 1970 motorized scooter. Last year he drove it to the top of Mt. Washington (think of the scene from "Dumb & Dumber that's Tom on his bike). His love of welding led to a 1969 Tucker Snow Cat Custom Creation which he still owns.
Tom and Linda met in 1988 at The Meredith Station a.k.a. "The Depot," which is now Lovering Volvo. They were married by 1989, had the wedding at Gunstock and the after party at Linda's parent's home on Pendleton Beach. They lived in Alton for a short time then moved to Andover, MA to grow Tom's welding business, East Coast Metalworks. The business grew with the majority of work tied to the recycling industry welding and fabrication. Linda was active in the real estate industry and home decorating/design. In 1992 Linda's parents decided to sell Pendleton Beach so Linda referred the listing to Nancy and they've become great friends since then.
After their son Anthony was born, Linda called Nancy to help them find a vacation cottage on the lake in Alton, not too far from Tom's parents. They found that special spot off Route 11 at Smith Point in Alton. The 2 bedroom, 750sq.ft cabin included 1 acre with over 100 ft. of shorefront on Winnipesaukee. From 2001 – 2014 they enjoyed the cabin year-round on weekends, driving up from Andover every chance they had. During that time Tom moved his business to Kingston NH, where his work expanded to "picture cars" involving special effects for the movie industry. His restoration and welding expertise was used for the movie "The Town" with Ben Affleck and "Grownups 2" with Adam Sandler. He recently finished work for the movie "Ted 2" with Mark Wahlberg where he had to ruin 3 Dodge Darts to create one used for the set to get shot out of a cannon.
In 2014 Tom and Linda decided to tear down the camp and construct their dream lake home so they could live permanently year-round on Lake Winnipesaukee. Their son, Anthony was attending Austin Prep in Reading MA but he elected to move his senior year to Prospect Mountain High School in Alton. It was a great transition; he loved it and "didn't feel sorry we sold the house in Andover…[he's] so happy up here."
Tom said, "I wanted to make the permanent move for Anthony. I wanted him to experience the same memories I had, the dirt roads, playing in the water and to just be a kid; and not be out in the city streets." Anthony will be off to Plymouth State University in the fall but he will call Lake Winnipesaukee "home."
Linda explained "we lived in Andover for 25 years and enjoyed it, but we love it up here now! We've met so many fun new people and neighbors…everyone is so hospitable and everything happens spontaneously…we feel so much more comfortable in NH and at the lake. We both plan to retire on the lake some day in the future." Linda and Tom love paddle boarding, jet skiing and boating, road biking and all of the activities that make up the fabric of the Lakes Region. It's the "quality of life and the relaxed environment" that Linda loves.
I've always said we're like birds and we migrate to places of familiar origin where we experienced happy memories. For Tom and Linda the sound of the water lapping against the shore, the hawking loon calls and the overall attraction to what we call the Lakes Region was enough to bring them "home again."
By Frank Roche, President Roche Realty Group Inc.
Please feel free to visit www.s21794.p694.sites.pressdns.com to learn more about the Lakes Region and its real estate market.
Interested in purchasing a home on Lake Winnipesaukee? Click HERE to search for current properties for sale on NH's largest lake!