There is a lot of excitement brewing in the Lakeport area! Previously shuttered for decades, the historic circa 1800's Opera House is now shining with recent renovations. Just across the road, even greater plans are in the works to revitalize an entire time-worn block of Elm Street. Locals are buzzing with curiosity about these recent developments and the "Texas businessman" who is the visionary and investor behind it all.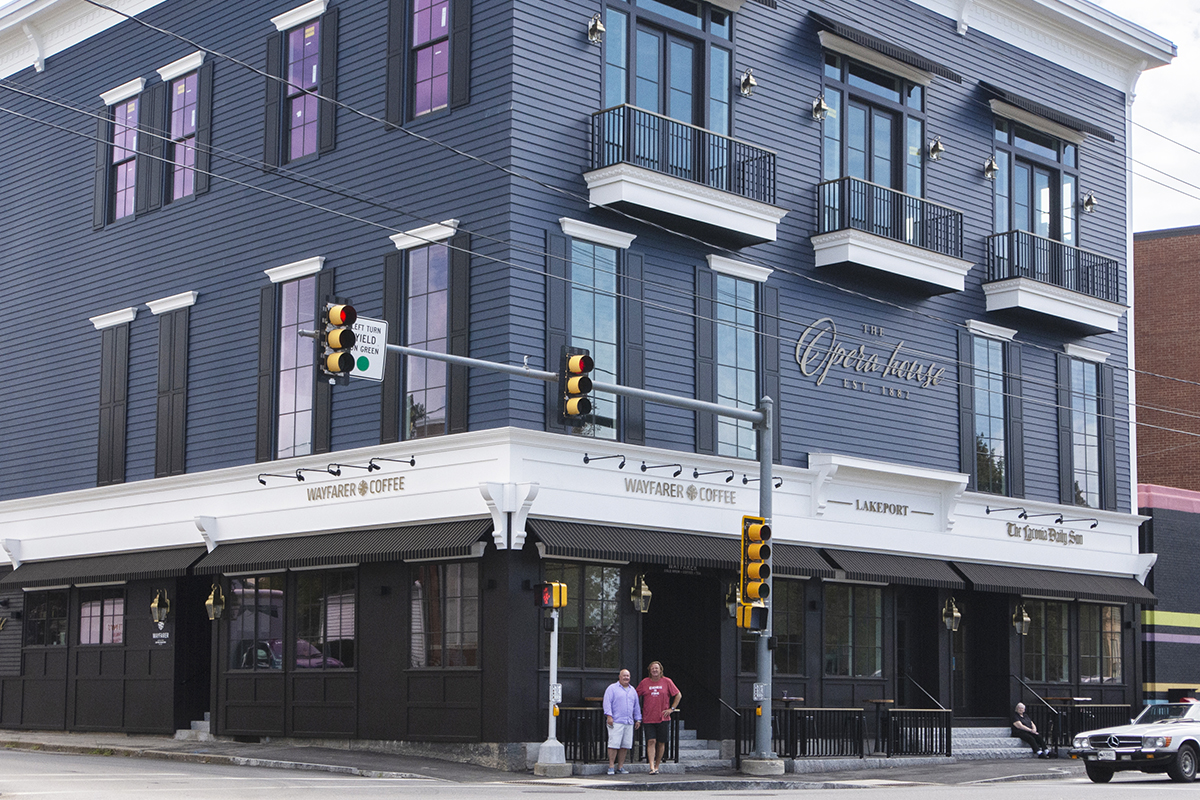 As it turns out, Scott Everett (the developer) is actually a local native, with deep roots here in the Lakes Region.
Ironically, his friendship with his local Realtor who sold him this real estate, Kevin Shaw of Roche Realty Group, goes back many years. The two of them went to kindergarten together in Gilford. They were good buddies who often hung out together and took many boating trips with Kevin's family out on Lake Winnipesaukee. Their friendship continued through middle school and high school, where they played soccer, basketball, and baseball together. Scott and Kevin were 3-time all-state soccer players for Gilford, and they both were in 4 state championships. A highlight was when both played on the Club Northeast Select Team with athletes from all over New England, New York, and New Jersey. As juniors in high school, Scott and Kevin were roommates and teammates on a 12-day tour of England, competing against European teams.
After high school, Scott Everett went on to Northeastern University in Boston. He gravitated to the West Coast for a time and then settled in Dallas, Texas in 1993. At one point, Scott had considered law school but realized that path was not for him. He knew he wanted to do something in the financial sector, and mortgage banking seemed to be a perfect fit.
Initially, Scott worked for a mortgage broker in Dallas. While he was fortunate to be gaining experience in the field, at the same time, he saw many flaws and recognized improvements that the mortgage industry could implement. With his incredible entrepreneurial skills and competitive spirit from his high school sports days, Scott thought, "I can do this better." He then went on (in 1999) to launch his own mortgage company, Supreme Lending. With a lot of hard work, tremendous insight, and drive, Scott grew the company immensely. Today, Supreme Lending has approximately 375 offices and is licensed in every state in America – a truly incredible feat in today's competitive mortgage market! In total, Scott has over 3,000 employees. He also holds many investments in the Dallas area, primarily consisting of multi-family homes and commercial buildings.
Circling back… In the interim, while Scott was persuing his entrepreneurial endeavors, Kevin Shaw was developing a solid skillset in real estate. Kevin has been with Roche Realty Group for 21 years and has cultivated an incredible knowledge of the lakes, surrounding communities, and developments. Kevin has a thorough understanding of the market and knows a good opportunity when he sees it. At South Down Shores and Long Bay on Lake Winnipesaukee, he has enjoyed tremendous success. Last year alone, Kevin produced $36.6 million in sales volume himself and was the top agent in sales at Roche Realty Group.
Kevin and Scott lost touch for a few years while Scott was out on the west coast. However, 15 years ago, Scott reached out to Kevin from Dallas, and they reconnected when Scott opened his mortgage company.
It started with Kevin finding a 6-week summer rental for Scott on the lake, which later led to Scott and his brother Tim purchasing a waterfront condo at South Down Shores. The two brothers then bought two side-by-side houses on Paugus Bay. Kevin then sold Scott the well-known "Big Island" property, the largest island on Paugus Bay. Kevin and Scott reconnected again with Scott's purchase of a few pieces of land, one of which was 40 acres abutting the Laconia Country Club. That led to a unique investment in Lakeport that Kevin put together for Scott involving a 5-stall boathouse with docking for six boats and two 2-family houses. Scott's next acquisition through Kevin was the old P&P Market on Elm Street, which came with three apartments. As Scott's vision for Lakeport expanded, he then purchased 13 separate buildings involving 78 units through Kevin, part of which abutted the old P&P market. This acquisition is now the site of the latest development proposal for Lakeport.
Following those investments, Scott looked up at the old, dilapidated building which had stood vacant for years, and said to Kevin, "What do you think of the Opera House? I would really like to restore that building." Kevin put a deal together for Scott Everett to purchase the historic Opera House. The purchase included the home behind it, which would be torn down to create room for parking.
Today, Scott's much anticipated Opera House building renovation features a charming, classic exterior, with the lower section already complete (and open for business) and the upper levels well underway. The Laconia Daily Sun has recently opened the doors to their beautiful new office on the ground floor level. Next door in the same building, the Wayfarer Coffee Roasters has opened its second location featuring oversized windows and modern design, with a floating industrial staircase leading up to a second-floor lounge. Currently under renovation, the upper levels still retain charming original features of the old Opera House, which will be carefully preserved for the building's "second act." The 3rd level apartments will feature soaring original ceilings and enormous windows to take in Paugus Bay's activity and, some of the Lakeport area's best views.
When we asked Scott Everett what brought him to investing in the Lakes Region, he commented the following:
"Living so close to downtown Lakeport and having my father grow up on Mechanic Street and visiting my grandparents literally in one of those buildings when I was a child made me realize the beauty of Lakeport. I always thought Rusty [McLear] did such a nice job with Meredith over the years, and that we could see the same thing with Lakeport. This is the first of many projects that will hopefully revitalize that entire area. I am excited about it and love the opportunity to meet all the wonderful people of Lakeport and Laconia."
Other local businesses have also recently contributed to improving the Lakeport area, which has cast a green light on progress. Lakeport Landing's newly constructed showroom at the former fire station is now complete. Fratello's restaurant added an attractive addition, and the Lake Opechee Inn and Spa, with O's high-end restaurant, is a significant improvement to the area. Three local marinas have also added to the Lakeport core.
Remarks from locals and out-of-state visitors regarding the Opera House renovation have been fantastic! Looking forward, Scott's development vision for the old P&P market and surrounding block of buildings that he has acquired is both exciting and inspiring for the Lakes Region. The proposed redevelopment for the Elm Street real estate acquisition is now before the Laconia Planning Board. Published renderings for the new buildings tie in beautifully with his theme for a Lakeport revival. Scott plans to replace the existing structures with classy residential condos above and fresh, modern commercial space below. When asked about this theme, Scott remarked:
"I think in order to fully realize the potential of that [Lakeport] area, there is a need for more retail space. You need more apartments and overall foot traffic. That is the plan for the immediate and expanded area, and I think it has incredible potential. It is the gateway between two lakes, in a very special spot. The area has been great in the past, and I assure you if I have anything to do with it, it will be in the future."
Scott Everett certainly has his eye on future development and improvements to the Lakeport area! He has incredible vision and wants to give back in a big way to the community that raised him.
Kevin Shaw commented, "Scott is an amazing guy with a great entrepreneurial spirit. He surrounds himself with incredible people, and he treats all of them like gold."
This article is a story of progress. But it is also about two great kids (now successful adults) who both had competitive ambitions, excellent work ethics, and grew up to have strong commitments to their roots.
Locals and visitors alike will be fortunate to enjoy future improvements to this great community.
This article was co-written by Frank Roche, and Heather (Roche) West.