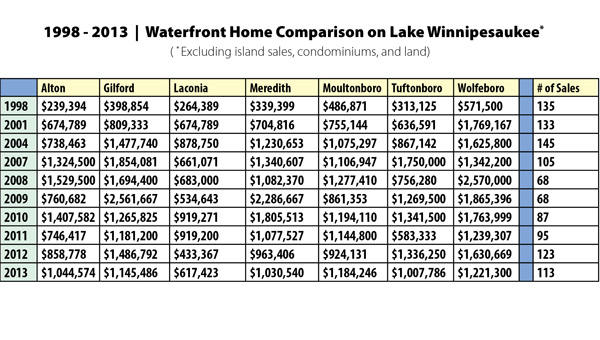 It is quite remarkable when you look back over the years and compare average selling prices for waterfront properties on the shores of Lake Winnipesaukee. The above data compiles a breakdown of the average selling prices by individual towns which front on Lake Winnipesaukee. When you take Alton for example, going back 15 years ago, the average selling price on the lake amounted to only $239,394. When you dial it forward 15 years to 2013, the average selling price was a whopping $1,044.574. Likewise for Gilford, back in 2008, the average selling price was only $398,854, and in 2013, it jumped up to $1,145,486.
There are peaks and valleys in between. For example, take a look at 2008 when the average selling price in Wolfeboro amounted a staggering $2,570,000. Obviously that was a peak period prior to the collapse of Lehman Brothers, Bear Stearns and AIG. But like all solid tangible assets, real estate values in prime locations (ie: near quality lakes, the ocean, or major ski resort / golf course communities) bounce back and continue to appreciate over time. The key is timing, and at the present time there is a very good selection of fine waterfront properties available for sale on Lake Winnipesaukee. Consider the appreciation, mortgage and tax deductions, and most importantly, memories shared with family and friends that a waterfront property will generate for years to come.
A tangible real asset that you can use during all four seasons would be my choice and recommendation, versus a certificate of deposit punching out around 1%, or a bunch of stock certificates which can be manipulated by the marketplace and obviously can't be used.
We are in a great region! Lake Winnipesaukee, with its 71 square miles of water, is close to major metropolitan areas, less than two hours from Boston, and there are numerous ski resorts to take advantage of. During the summer season, if you're looking for a change of scenery, the NH seacoast is only an hour's drive away.