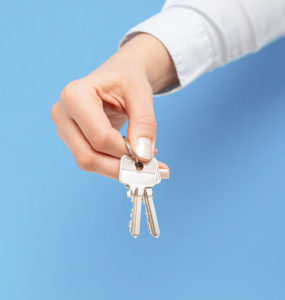 Remember your first home? Whether it was a freshly painted rental or your first investment in real estate, walking into your new space full of promise and possibility was an exciting experience! Likewise, it should be a positive and welcoming experience for your buyer.
Moving can be stressful, and contract deadlines can make even the super organized feel frazzled and rushed! Regardless, it is important to show respect for the buyers who will become the new owners of your property by leaving the home in good condition. Remember that for your buyers, this is likely one of their largest financial investments! Here is an outline on thoughtfully preparing your home for closing day.
Haul away the clutter
A new home should be a clean slate for a homebuyer – even if cosmetic or repairs are in order, the home should be free of clutter and debris from the previous owner. That means all personal belongings not attached to the wall or ceiling or included in the sale of the home must be removed from the house and yard. You may feel a lot of pressure to get out of the house in time, however it is your responsibility as the seller to remove everything from the premises prior to the final walk-through. A closing could be stalled or fees incurred on the seller if clutter or construction debris is left on a property – so we strongly advise you don't take this risk. If you are overwhelmed and short on time, you can try to call on a good friend or family member for help (food is a great motivator!) or you can always hire a handyman or hauling service.
Here is a welcomed exception to the rule: It is fine to leave current color paint cans if the walls were freshly painted. (An added courtesy would be to label the paint cans with the corresponding rooms, and specify to the buyers where they are stored.) The same goes with extra porcelain tiles from your kitchen or bathroom renovation, extra shingles from a recent roof replacement, etc.
If you wish to hire a cleaning or hauling service, your Realtor® can provide local recommendations upon request.
Leave it "Broom Clean"
Your purchase and sales contract states that your property must be left "Broom Clean." But what, exactly, does that mean? Your house should be basically empty at this point, which will make cleaning a breeze! Clearing away the dust bunnies and other forgotten items that jumped out when you moved your furniture shows respect for the new owners. Be sure to vacuum floors, drawers / cabinets, etc., wipe surfaces, remove any trash, and clean the inside of the fridge (please don't leave any leftovers – trust us, nobody wants them!) There are excellent cleaning companies in the Lakes Region available for you to hire to clean your house if you need a helping hand.
Recycling / Waste instructions
It is not mandatory, but it is helpful to leave instructions for your buyers on waste removal and recycling, i.e. pickup days and location of barrels for pickup.
Odds & Ends
Give your buyers a good start by leaving behind a packet with any current owner's manuals you have for appliances, heating / cooling units, well pumps / water filtration systems, alarm systems, sprinklers, etc. Garage door openers, lock codes or other important information should be left with that packet. For some good karma,  make a list of service providers who you have relied upon over the years, including lawn care specialists, shoveling / plowing companies, painters, etc. This extra step will benefit both the buyers and your dedicated local contractors!
Extra credit:
While this is not mandatory, having your septic tank pumped prior to the home inspection is always a good idea. Also, be sure to stay on top of lawn maintenance, and seasonal snow / leaf removal so the yard is tidy on closing day. Your buyer (and your former neighbors) will really appreciate it!
This article was written by Heather (Roche) West of Roche Realty Group, Inc. Please feel free to visit www.rocherealty.com to learn more about the Lakes Region and its real estate market.