Dream Vacation on Welch Island, Lake Winnipesaukee!
Now accepting reservations for the the summer of 2020
Bookings fill up quickly! Contact Christina Day at (603) 387-0819 to book your Welch Island vacation.
Relax by the water's edge...
Looking for a totally remote, beautiful, and secure place to hunker down for a week or even a month's vacation? Looking to rejuvenate your health with fresh air, no cars and no other people? We have a summer estate on 30 acres on an island on Lake Winnipesaukee  in NH. It is a totally fenced property so the only people you will have contact with are those you wish to be with. 
This is a three bedroom home with an added bunkhouse for four for an additional fee*. Each bedroom has a TV and one more in the family room. It has a private dock capable of handling a 35 feet boat, a waterfront sun deck with new 8 person hot tub surrounded by privacy screening, a gym with new treadmill, bow flex, elliptical, rowing machine, weights and other equipment. There is a cutting garden for your decorative skills along with an herb garden to improve your culinary skills. There is shore side free parking for 2 cars and a boat trailer. The home has electric heat with a central fireplace and air circulator. You have access to a washer and dryer, access to the internet, your own charcoal grill on your deck which comes with a full supply of charcoal and lighter. For those who do not have a boat, we offer two free boat rides to and from shore and two free food shopping service (you pay for the food) for those that want to avoid any human contact. You have access, at no charge to a jet ski**, canoe, rowboat, several kayaks and a Hobie Sailboat and of course, a 20 mile long Lake that boasts clear, clean water.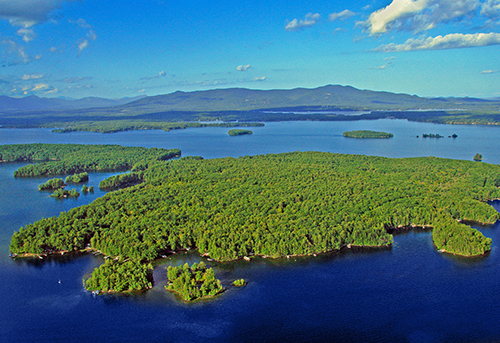 If this unparalleled scenery is not enough for you and you crave a change, you can boat to one of the many ports along the shore where there are charming restaurants for a quick lunch or dinner, climb one of the many mountains surrounding the lake, many of which are the highest in the Northeast, or hike one of the lake-side trails just fifteen minutes away by either boat or car. Renowned Mount Washington, the highest peak in the Northeast (6,289′), is visible from right in front of the island and is less than 50 miles away, an incredible hiking experience. You can also ascend by driving or take the cog railway to the summit. Weirs Beach is the home of the second largest motorcycle gathering in the country, an enormous arcade and fireworks every weekend. Just down the road from Weirs Beach is Monkey Trunks Adventure Park and Funspot. This is just a sampling of the exciting adventures that await you on your visit to NORTH LEDGES.
 *In addition to the main house, a short walk away, there is a bunkhouse that provides  4 additional single/trundle style beds. There will be an added charge of $250 per guest per week for the bunkhouse, and children under 6 stay free. Children under 12 must be accompanied by an adult in the bunkhouse. This bunkhouse is located in the gym on the second level that is accessible by ladder, see pictures.  
  **The jet skis are available for use Monday through Thursday and a waiver must be signed.

Unfortunately, due to past issues with pets, there are no pets allowed. Roche Realty Group can recommend a reputable local kennel for boarding upon request.
Contact Christina Day for details at (603) 387-0819 (cell) or (603) 279-7046 (office)
OR e-mail cday@rocherealty.com